Today
Google
have produced a doodle for the 60th
anniversary of the unveiling of the first Routemaster bus.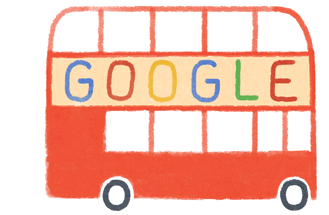 It was
barely a week ago
that we had the chance to have a free ride of these in our own town.
It brought back memories of living in London and using these buses as part of my daily commute.
In those days you could jump on and off the bus whilst it was still moving!
(Or when it was at a standstill in a traffic jam in Oxford Street!)
They used to just have a conductor, but, now, with H&S, we had an extra chap keeping the open end at the rear end of the bus clear!
Just in case you've never seen the inside of a bus!!
Wooden window frames, leather(ette?) seats, a 'dinging' bell
I'm safe jumping off now...it's stopped!
Zxx